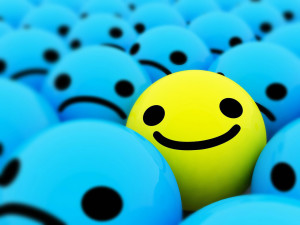 The other day I was talking with a friend about the problem of happiness. Not that being happy is a problem. But so many people I know aren't happy, and that (to them, at least) is a problem. Whether it's a problem for me, too, depends on whether I choose to make it one. I know it's co-depedent, but when those we love are unhappy, it's hard not to let it affect us.
Happiness (and the lack thereof) has recently been the topic of a staggering number of books, articles, podcasts, etc. I've read a fair bit of this tidal wave of research, analysis, and opinion. I'll write about some of it in upcoming posts. Right now, what I'm interested in is you and your happiness, or lack thereof.
If you're willing, post a comment telling me whether you consider yourself happy.
On a scale of 1 to 10, how happy are you most of the time?
Does your mood cycle between joy and misery, or do you sail through life on an even keel?
Are you, in general, a glass half full or glass half empty type?
Have you always been that way, or have you moved on the optimism-pessimism scale?
Do you actively pursue happiness, or consider it a byproduct of a life well lived?
Do you believe some people are just lucky and others aren't, or that we make our own luck?
It can be anonymous (I'm the only one who can see the email address you enter, and you can always put noneofyourbusiness@gmail.com), but I'm curious.